---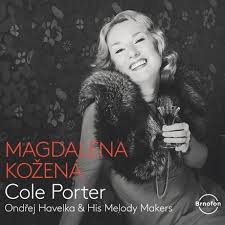 The world-famous mezzo-soprano decided to leave the world of classical music behind for a while and embarked on a gentle flirtation with the 'light muses'. She chose a truly soulful and immensely witty author for her excursion into the world of classical American musical – Cole Porter. She will sing his renowned, jazz-inspired hits to the accompaniment of Ondřej Havelka and His Melody Makers, an orchestra which ranks among the world's leaders in authentic interpretation of jazz, swing and dance music of the 1930s and 1940s. Come and enjoy the famous melodies Night And Day, I've Got You Under My Skin, Love For Sale or Begin To Beguin sung by Magdalena Kožená who invites you by saying: Let's Misbehave!
"I fell in love with Cole Porter's songs and the music of that period during the years when I was a student. I am a great admirer of Ella Fitzgerald, Billie Holiday, Peggy Lee and other jazz legends. Their recordings are still amongst my favourites. I did not dare take on this repertoire for a long time, however, because I am of the opinion that each artist should stick to his or her own style. Many excursions made by classically trained singers into the world of the lighter muses have struck me as being somewhat lacking. However, I was inspired by listening to the songs of Cole Porter performed by Frederica von Stade, whom I admire greatly. Without in any way endeavouring to alter her singing style, she gave Porter's songs great charm and brought them into a different, interesting dimension. When I became the resident artist in several European cities in 2016 and was invited to take on an unconventional, daring project, I decided that I would try and present my own take on these timeless melodies to audiences.
It is necessary to learn something new with every new style; in this particular case, for example, swing phrasing, essentially more delicate singing into the microphone or the way of rendering the text so that it sounds as natural and comprehensible as possible. I would not have been able to at least partially break into this world, which is relatively new for me, without the assistance, trust and patience of Ondřej Havelka and the pianist Mirek Lacko, who spent many hours with me in rehearsal, or without the moral support of the band, which dived headfirst into this adventure with me. My thanks also go to Mary Carew, who not only played the role of the language "police" during the recording, but also advised me from the position of an experienced and outstanding performer of this genre. Last, but not least, I would also like to pay tribute to Juraj Bartoš for his wonderful arrangements of the songs."
Magdalena Kožená