---
Debussy: Nocturnes – Duruflé: Requiem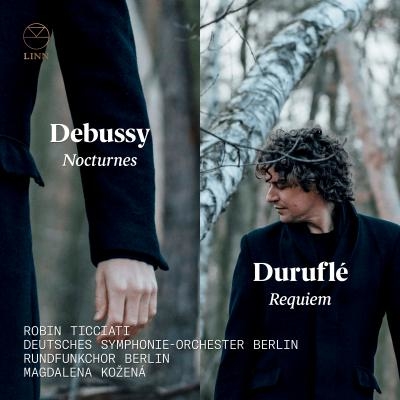 Magdalena Kožená
Deutsches Symphonie-Orchester Berlin
Robin Ticciati / conductor
Robin Ticciati's fourth recording with Deutsches Symphonie-Orchester Berlin continues his series of music by French composers (Debussy, Fauré, Ravel, Duparc) with a significant move into choral music: the Duruflé Requiem.
Released to coincide with his third season as Music Director of DSO Berlin, Robin Ticciati has forged a close and highly successful partnership with his orchestra. For this recording Ticciati is joined by Magdalena, who has performed Debussy's Ariettes oubliées and Duparc songs on previous DSO recordings, and the Grammy award-winning Rundfunkchor Berlin.
Written in response to Fauré's own Requiem and with Debussy's influence paramount, Duruflé created one of the most significant sacred works of the twentieth century. Ticciati describes this masterpiece as "a balm for the soul, a score filled with tremendous hope and peaceful searching". Most typically recorded with organ accompaniment, Ticciati has chosen to record Duruflé's own orchestrated version which allows the conductor to create a unique blend of choral and orchestral colours recalling the sound-world of Debussy and the Impressionists.
Fittingly the programme also includes Debussy's Nocturnes, a welcome addition following the critically-acclaimed reception of Ticciati's recording of La mer.
More info here.