---
Soirée / Magdalena Kožená & Friends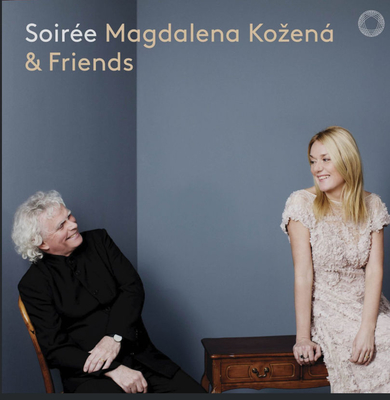 Magdalena Kožená
Andrew Marriner, Wolfram Brandl, Rahel Rilling, David Adorjan, Kaspar Zehnder, Sir Simon Rattle, Yulia Deyneka
Soirée captures the atmosphere of informal, domestic music making. Magdalena offers an intimate and highly personal collection of international songs together with an outstanding group of musical friends, including Sir Simon Rattle, who makes his recording debut as a pianist. The German lied is represented by Brahms (Two Songs, Op. 91 and Five Ophelia Songs, WoO 22) and Strauss (Morgen!), the French chanson by Chausson (Chanson perpétuelle) and Ravel (Chansons madécasses), and 20th-century avant-gardism with Stravinsky's Three Songs from William Shakespeare. In between these explorations, Kožená revisits her musical roots with a selection of Dvořák songs, arranged by Duncan Ward, as well as Janáček's Nursery Rhymes.
Katherine Cooper writes about the new recording:
Soirée is the second release of Magdalena's exclusive collaboration with PENTATONE, after having presented the baroque cantatas recital album Il giardino dei sospiri in 2019.