---
Wolfgang Amadeus Mozart: Arias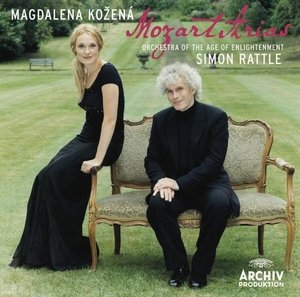 Magdalena Kožená
The Orchestra of the Age of Enlightenment
Sir Simon Rattle
Wolfgang Amadeus Mozart (1756 - 1791)
Le nozze di Figaro, K.492
Act 4
1. Giunse alfin il momento...Deh, vieni, non tardar...
with embellishments by Domenico Corri
Act 2
3. Ch'io mi scordi di te... Non temer, amato bene, K.505
Così fan tutte, K.588
Act 1
Magdalena Kozená, Orchestra Of The Age Of Enlightenment, Simon Rattle
Act 2
La clemenza di Tito, K.621
Act 2
Idomeneo, re di Creta, K.366
Act 1
8. "Quando avran fine omai" - "Padre, germani, addio!"
9. Vado, ma dove? oh Dei!, K.583
Le nozze di Figaro, K.492
Act 1
10. "Non so più cosa son, cosa faccio"
11. Alma grande e nobil core, K.578
Le nozze di Figaro, K.492
Act 3
12. "Giunse alfin..." _ "Al desio di chi t'adora" (K.577)